USGI MILITARY SHELTER HALF PUP TENT COMPLETE

VERY GOOD CONDITION


GENUINE US MILITARY ISSUE
GENUINE US MILITARY ARMY two man pup tent complete.
The fundamental unit of shelter for the U.S. Army in the field -- since the Civil War -- is the two-man pup tent. Each soldier would carry one Shelter Half set and join halves with another soldier to make one tent.
The shelter half pieces fasten together with a row of snaps along the ridge line and comes complete with 6 poles sections, 2 ropes and 10 stakes, that make up one COMPLETE two man pup tent. The snaps are two sided and any pair of shelter half pieces can be fastened together with a watertight closure along the top line. Inside dimensions are approximately 6.5' long and 60" wide.

Each Shelter Half contains:
* (1) One Water Resistant Canvas Shelter Half (2 Total that Button Together at Roof Line to make COMPLETE TENT).
* (3) Three Pole Sections to Make One Pole. (6 Pole Sections Total to Make (2)Two poles).
* (5) Five Aluminum Stakes. (10 Total Aluminum Stakes).
* (1) Rope Guy Line, approx. 7 feet, loop on one end. (2 Total Guy Lines One at Each End of Tent)
You will receive (2) TWO SETS to make ONE COMPLETE TENT.
Each tent half with its stakes and poles weighs about 5 lbs. for each soldier, 10-11 pounds total.
For instructions on how to erect the tent
Click Here
Great for Hunting, Camping, Hiking,Tactical Operations
Condition: VERY GOOD CONDITION

Click Here to see our condition chart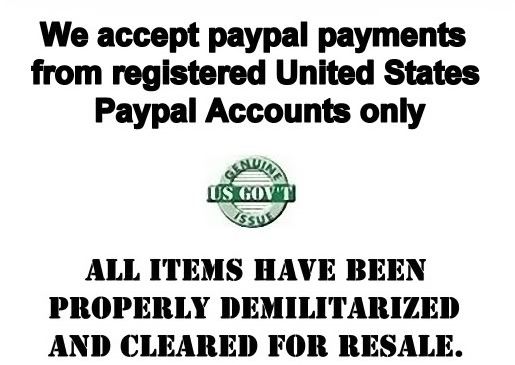 Nothing Beats Made in the USA