USGI MILITARY JUMBO 17ft x 6ft Mosquito Insect Bar Field Netting NEW / UNISSUED
USGI MILITARY JUMBO 17ft x 6ft Mosquito Insect Bar Field Netting NEW / UNISSUED
Rating:
(

1

product review )
---
Product Description
USGI MILITARY ARMY Mosquito Insect Bar Field Netting
NEW / UNISSUED
GENUINE U.S. MILITARY ISSUE
JUMBO FIELD MOSQUITO NET IN BRAND NEW CONDITION.
OF COURSE NO HOLES, RIPS OR TEARS. BRAND NEW / UNISSUED!

SOME CALL IT BAR NETTING, CANOPY/COT COVER OR ARMY NETTING.
BUT, WHATEVER YOU CALL IT, IT'S JUST WHAT YOU NEED TO KEEP THE BUGS AWAY.
THIS IS 200 INCHES BY 72 INCHES(Approx.).
IT CAN BE USED FOR ALL KINDS OF PURPOSES FROM HUNTING, CAMPING,A BED CANOPY, TO COVERING OUTDOOR PATIO CANOPIES.


IT IS MADE OF FINE SEE THROUGH (NO-SEE-UM) MESH AND IS MILDEW RESISTANT.


IT HAS

FOUR REINFORCED CORNERS WITH TIE TABS.


THE COLOR IS OD GREEN
IT IS MADE TO FIT OVER AN ARMY ISSUED 2 MAN PUP TENT OR FIELD COT.

MOSQUITO FIELD NET BAR
GENUINE GOV'T ARMY ISSUE
MEASURES 200"L X 72"W (APPROX.)
REINFORCED EDGES AND CORNERS WITH TIES
EXTRA FINE NO-SEE-UM MESH
MILDEW RESISTANT
FITS OVER COT OR PUP TENT
GREAT PRICE AND NEW / UNISSUED CONDITION
MADE IN USA



JUMBO

200" x 72" open (17 feet X 6 feet), Reinforced Edges and Corners with Ties, Extra Fine No-See-Um Mesh, Mildew Resistant, Fits over Cot or Pup Tent. Olive Drab.
NSN # 7210-00-266-9736
Number of holes per square inch = 576 holes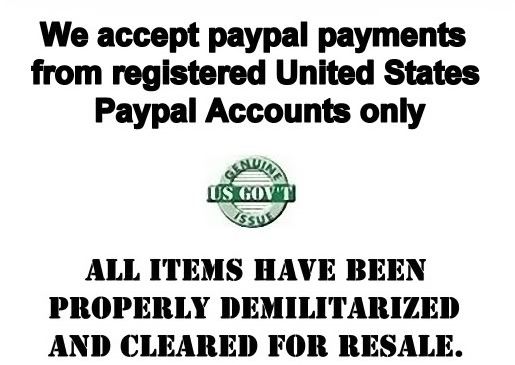 Nothing Beats Made in the USA
---
Find Similar Products by Category
---
Product Reviews
Customers Who Viewed This Product Also Viewed