USGI MILITARY ARMY White Mickey Mouse Bunny Boots W/Valve NEW / LIKE NEW
Product Description
Click on the photo to enlarge
USGI MILITARY ARMY White Mickey Mouse Bunny Boots
W/Valve
NEW / LIKE NEW CONDITION
GENUINE U.S. MILITARY ISSUE
These are GENUINE Military Issue "Mickey Mouse" / "Bunny" boots

.

The multiple layers of wool felt provide an insulation to protect your feet in subzero temperatures, and the waterproof rubber exterior keeps your feet dry and warm. Bought straight from the United States Government, we eliminate the middle-man and therefore, can keep our prices low compared to the $69 to $99 advertised in many popular sporting magazines. Perfect for hunting, snowmobiling, ice fishing and just about any other activity where cold and moisture are a factor.

WE INSPECT, THEN CLEAN AND TREAT ALL OUR MICKEY MOUSE BOOTS WITH A RUBBER CONDITIONER.

Hurry while they last!



IF YOU HAVE TROUBLE WITH COLD FEET BECAUSE YOUR FEET GET DAMP OR WET, THESE EXTREME COLD WEATHER BOOTS ARE FOR YOU!

I HAVE PERSONALLY WORN THIS TYPE OF BOOT IN THE FRIGID NORTH COUNTRY IN THE ADIRONDACKS. WHILE HUNTING IN A MARSH I FOUND MYSELF KNEE DEEP IN WATER. YUP! WATER IN MY MICKEY/BUNNY BOOTS. I POURED OUT THE WATER. CONTINUED WALKING AND MY FEET WARMED UP AND STAYED TOASTY WARM.

(WOOL SOCKS DRIED QUICKLY AND HELP KEEP MY FEET TOASTY WARM).

SAME THING HAPPENED WHEN I WAS SNOWMOBILING IN THE ADIRONDACK PARK NEAR LAKE PLACID IN UPSTATE NEW YORK. MY SLED DID NOT MAKE IT ACROSS SOME OPEN WATER. I WALKED OUT OF THE KNEE DEEP CREEK, POURED THE WATER OUT OF MY BOOTS, RUNG OUT MY WOOL SOCKS, MY FEET WERE WARM AGAIN 10 MILES DOWN THE TRAIL (Sled was OK it just had a wet belt---danged thing didn't know how to swim!!).

NO KIDDING! THESE BOOTS ARE SIMPLY THE BEST!
WE GUARANTEE

ALL OUR BOOTS

- MAY HAVE SOME SURFACE BLEMISHES AND TYPICAL CHECKING AT THE TOP OF THE CUFF. SOME WILL HAVE TYPICAL SUPERFICIAL SPIDER CRACKS ON THE SURFACE RUBBER THAT WILL NOT EFFECT PERFORMANCE. NO HOLES OR PATCHES. WE CLEAN AND SHINE THEM.

THEN WE TREAT ALL OUR WHITE BOOTS WITH A GREAT RUBBER CONDITIONER TO KEEP THEM SUPPLE AND MAXIMIZE PERFORMANCE!

THE ORIGINAL COLD WEATHER BOOT! GENUINE MILITARY ISSUE WITH AIR VALVES.
Condition:

NEW / LIKE NEW CONDITION



Click Here to see our condition chart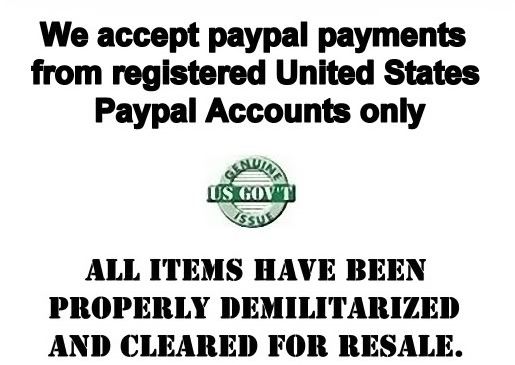 Nothing Beats Made in the USA
---
Find Similar Products by Category
---
Customers Who Viewed This Product Also Viewed