You will receive OD Green or Woodland Camo Shoulder Straps, depending on our current stock.
LARGE OD Alice Pack w/ Frame / Pad / Straps COMPLETE
VERY GOOD CONDITION


This ALICE ("All-purpose Lightweight Individual Carrying Equipment") Pack is an ideal camping companion! This comes with a
HEAVY DUTY Aluminum Frame
COMPLETE
with
Large Alice Pack
,
Quick Release Padded Shoulder Straps
and
Kidney Pad with Quick Release Belt
. The Large Pack has one Large Adjustable Pouch Inside Main Pack and SIX Outside Pouches with Double Snap Adjustable Closures.
The Troops in Olive Drab have relied on this set-up for decades.

Current U.S. Military-Issue,

Roomy

and Rugged.

Water-Resistant

HEAVY DUTY Nylon Fabric

1 5/8" wide waist Belt Fits up to 48" Waist.

Adjustable Padded shoulder straps

with 4 1/2 x 11" shoulder pads.
Will Hold 3 Full Days of Clothing and Rations (Approx. 70 lbs.).

Lower and Upper Back Pads.

Gear Pouch with Drawstring within

Large Main Compartment

with a

Hidden Map Compartment

in the Flap.
2-Strap Top Flap with

Metal Cinch/Release

Hardware.

Three 5 x 10" Outer Gear Pouches

with Strap-Flap with

Metal Cinch/Release Hardware

. Plus

3 More Upper Snap-Flap Pockets

with Metal Cinch/Release Hardware.

All Pockets and Main Compartment are equipped with

Metal Drain Vent Holes at the Bottom.

Two Inch Nylon Webbing sewn Around the Top of the Bag and on Both Sides have Small Metal Grommets made to Attach Additional Gear on the Outside of this Pack.

(Yes, this item comes with the Quick Release Shoulder Straps and HEAVY DUTY Light Weight ALUMINUM Frame)
These Back Packs are used / previous issue but is in
VERY GOOD CONDITION.
REMEMBER THESE ARE USED MILITARY BACKPACKS.
THEY MAY SHOW SOME SIGNS OF WEAR. MOST HAVE SEEN VERY LITTLE ACTION.
THEY WERE USED BY REAL SOLDIERS AND MAY HAVE A NAME ON THEM.
WE ALWAYS TRY TO PICK OUT THE BEST OF THE LOT.
ALL SNAPS ARE IN WORKING ORDER.
Great for Hunting, Camping, Hiking, Paintball, Tactical Operations, Lugging Books on Campus or Trekking Anywhere.
CLICK HERE for QUICK AND EASY ASSEMBLY OF YOUR ALICE PACK (Starts on page 18) - "A.L.I.C.E Manual' -Part 1- Once Picture Loads, Click it to Enlarge for Detail
Pack Measures Approximately: 20" long x 19" wide
Frame Measures Approximately: 22" long x 12" wide

Frame will fit Medium or Large Packs
Condition:

VERY GOOD CONDITION

Click Here to see our condition chart
Color: OD ALICE PACK, OD KIDNEY PAD with QR Belt, STRAPS, OD FRAME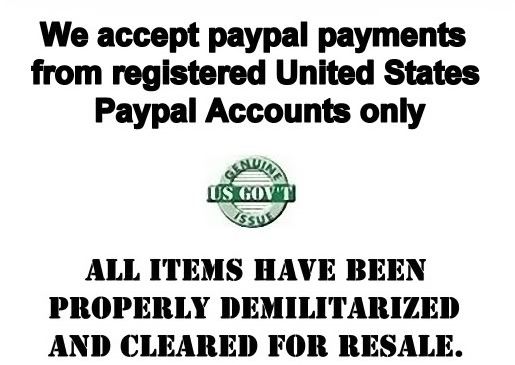 Nothing Beats Made in the USA