US Military Single Hole WOOL Balaclava Hood Ski Mask Foliage NEW
US Military Single Hole WOOL Balaclava Hood Ski Mask Foliage NEW
Rating:
(

1

product review )
---
Product Description
GENUINE U.S. MILITARY ISSUE
Made for the US Military with Superior Materials and Workmanship.
NOT A CHEAP INFERIOR IMITATION!
Made in the USA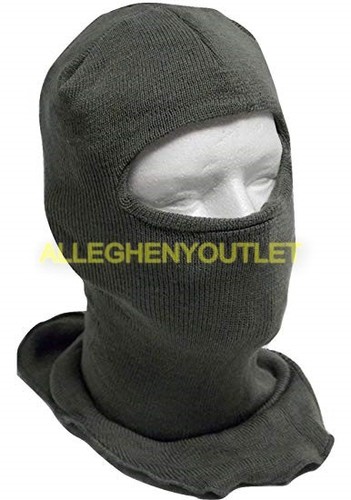 GENUINE U.S. MILITARY ISSUE
Military ECW Wool Blend Balaclava Hood

Color: Foliage Green
Size: One Size
Condition: Brand New / Unissued
NSN:

8415-01-526-8790

Cover your head, ears, nose, chin and neck with this balaclava.
Made with a double layer of knit wool featuring a concealed internal layer of nylon. This balaclava would be just the ticket for helping keep you warm while snowmobiling, hunting, shoveling snow, ice fishing, snow skiing or for any other outdoor winter sport you can imagine. They hold in TONS of body heat!!! Physiology experts say 80% or more of your body heat is lost from around your head. Think about it your brain is the most important organ in your body -- it's going to preserve itself at all costs, and take as much heat as it needs (that's why your hands and feet get cold first)!

Get yours today and start ENJOYING winter again!
Check out our other auctions for lots of other cold weather wear.
Retail Value NEW $29.99
ONE SIZE FITS MOST
Condition:
Brand New / Unissued
Nothing Beats Made in the USA
---
Find Similar Products by Category
---
Product Reviews
Customers Who Viewed This Product Also Viewed