US ARMY BATA Black Mickey Mouse Boots W/Valve SIZE 3R-14W VERY GOOD CONDITION
US ARMY BATA Black Mickey Mouse Boots W/Valve SIZE 3R-14W VERY GOOD CONDITION
Your Price:
$18.95
(You save

$131.05

)
Rating:

(

1

product review )
---
Product Description
US ARMY BATA Black Mickey Mouse Boots W/Valve
SIZE 3R-14W
VERY GOOD CONDITION
Click on the photo to enlarge
Also known in the US Military as "Mickey Mouse boots". These Boots have been Field tested and proven to keep your feet Toasty Warm in temperatures as low as -20º F. These are GENUINE Military Issue "Mickey" boots. The multiple layers of wool felt provide an insulation to protect your feet in subzero temperatures, and the waterproof rubber exterior keeps your feet dry and warm. Bought straight from the United States Government, we eliminate the middle-man and therefore, can keep our prices low compared to the $69-$99 advertised in many popular sporting magazines. Perfect for hunting, snowmobiling, ice fishing and just about any other activity where cold and moisture are a factor. Hurry while they last! Government surplus is drying up!
Condition:

VERY GOOD CONDITION



Click Here to see our size chart
Click Here to see our condition chart
Color:

BLACK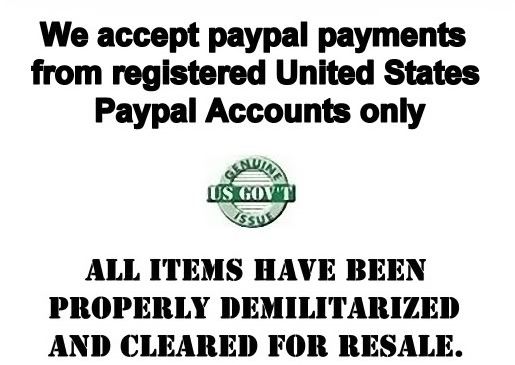 Nothing Beats Made in the USA
---
Find Similar Products by Category
---
Product Reviews
Customers Who Viewed This Product Also Viewed