NEW US Army Military Surplus BEAR BIB
NEW US Army Military Surplus BEAR BIB
Rating:

(

1

product review )
---
Product Description
US Army Military Surplus BEAR BIB
NEW / LIKE NEW CONDITION
Click on the photos to enlarge
GENUINE US MILITARY ISSUE
Cold Weather Bear Bib/Liner. Nicknamed the "Bear Suit" these bibs are used as the middle layer of the U.S. Army ECWCS (Extreme Cold Weather Clothing System).
The bibs are composed of synthetic fiber pile and are designed to fit snugly. Although they are designed to be worn under the Military Goretex Pants they can also be worn by themselves and are still very effective against the cold. Made to be worn under combat conditions in some of the harshest of climates, ECWCS clothing provides long-term comfort across a wide range of temperatures.
The best system for extended outdoor warmth and comfort. Great for cold weather work, hunting, ice fishing, snowmobiling or duck hunting--
Extra Small - Short/Regular - NSN # 8415-01-228-1323
fits 23 - 27 inch waist
fits 26 1/2 - 32 1/2 inch inseam
Extra Small - Long - NSN # 8415-01-228-1324
fits 23 - 27 inch waist
fits 32 1/2 - 35 1/2 inch inseam
Small - Short/Regular - NSN # 8415-01-228-1325
fits 27 - 31 inch waist
fits 26 1/2 - 32 1/2 inch inseam
Small - Long - NSN # 8415-01-228-1326
fits 23 - 27 inch waist
fits 32 1/2 - 35 1/2 inch inseam
Medium - Short/Regular - NSN # 8415-01-228-1327
fits 31 - 35 inch waist
fits 26 1/2 - 32 1/2 inch inseam
Medium - Long - NSN # 8415-01-228-1328
fits 31 - 35 inch waist
fits 32 1/2 - 35 1/2 inch inseam
Large - Short/Regular - NSN # 8415-01-228-1329

fits 35 - 39 inch waist
fits 26 1/2 - 32 1/2 inch inseam

Large - Long - NSN # 8415-01-228-1330

fits 35 - 39 inch waist
fits 32 1/2 - 35 1/2 inch inseam

Extra Large - Short/Regular - NSN # 8415-01-228-1331

fits 39 - 43 inch waist
fits 26 1/2 - 32 1/2 inch inseam

Extra Large - Long - NSN # 8415-01-228-1332

fits 39 - 43 inch waist
fits 32 1/2 - 35 1/2 inch inseam

Click Here to see our size chart
Condition:

NEW / LIKE NEW CONDITION

Click Here to see our condition chart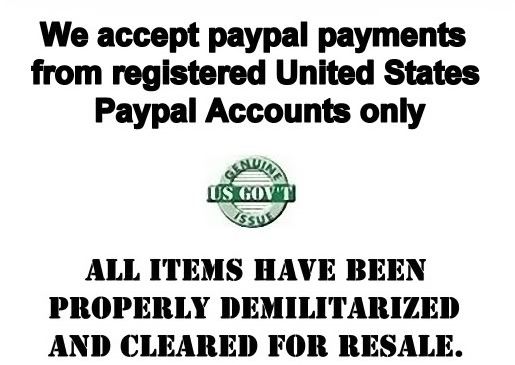 Nothing Beats Made in the USA
---
Find Similar Products by Category
---
Product Reviews
Customers Who Viewed This Product Also Viewed